Featured Article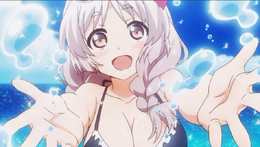 Hatoko Kushikawa (櫛川 鳩子 Kushikawa Hatoko), is one of the main characters of the series. She is a cheerful airhead and a childhood friend of Jurai Andō. She is good at cooking and often cooks for Jurai and his sister. Hatoko's power is called Over Element, which allows her to control all five elements (water, fire, earth, air, light) at will.
Sounds interesting? Read more...
Contribute to this Wiki!
---
If you're new to Wikia, please use the above links to get started.
You can contribute to
Inou Battle wa Nichijou-kei no Naka de Wiki
using the box below to create it:
If you're looking to help with cleanup, you can start here:
---
Ad blocker interference detected!
Wikia is a free-to-use site that makes money from advertising. We have a modified experience for viewers using ad blockers

Wikia is not accessible if you've made further modifications. Remove the custom ad blocker rule(s) and the page will load as expected.